Who We Are
An enterprise software development pioneer, established in 1998, Quantum has led the way in high tech software solutions and related services. Headquartered in Waterford, MI USA, with offices around the world, we're always ready for you. Our global presence includes: North America, Europe, Asia, South America and Africa. We will support your locations, 24x7, around the world.
Our expert staff includes all the disciplines necessary to do everything from initial consultation - through – post installation Service Level Agreements.
We're proud of our over 20-year roots in Detroit, MI USA. Our team has been involved with manufacturing control systems from its PLC infancy and has evolved into creating world-class MES product solutions. Manufacturing is in our DNA – our solutions are mobile, and immersive technology is in our sites. The future of information technology is HERE.
---
Quantum strives to work seamlessly with our clients, as an extension to their team. Internally, we promote growth in a true team environment. We call it the "wolfpack".
What We Do
Services
Quantum offers professional services designed to support your IT initiative. This includes: IT consulting, custom software solutions, project management, process analysis and ongoing project and product support.
Client software development includes:
PLC control systems
HMI \ SCADA systems
MES solutions
ERP integration
Business Intelligence reporting
Mobile applications – iOS and Android
Web applications
Web sites
Database design
Device driver implementation
Products
We're all about solving problems. You're sick of 10 software systems that won't easily integrate and we know it. Our product suites are designed to not only work with each other, but to seamlessly tie into your legacy systems. Our product suites are primarily focused on manufacturing and labor relations but many are vertical market independent, e.g. Q-Net Report Sapphire, iQ-Net Mobile, Q-Safety, Q-Data Warehouse. Click Here for a complete product summary.
---
The Power of a Leader ...
True leaders are not those who strive to be first but those who are first to strive and who give their all for the success of the team.
True leaders are first to see the need, envision the plan, and empower the team for action.
By the strength of the leader's commitment, the power of the team is unleashed.
Join Our Pack
Executive Leaders
---
Global Presence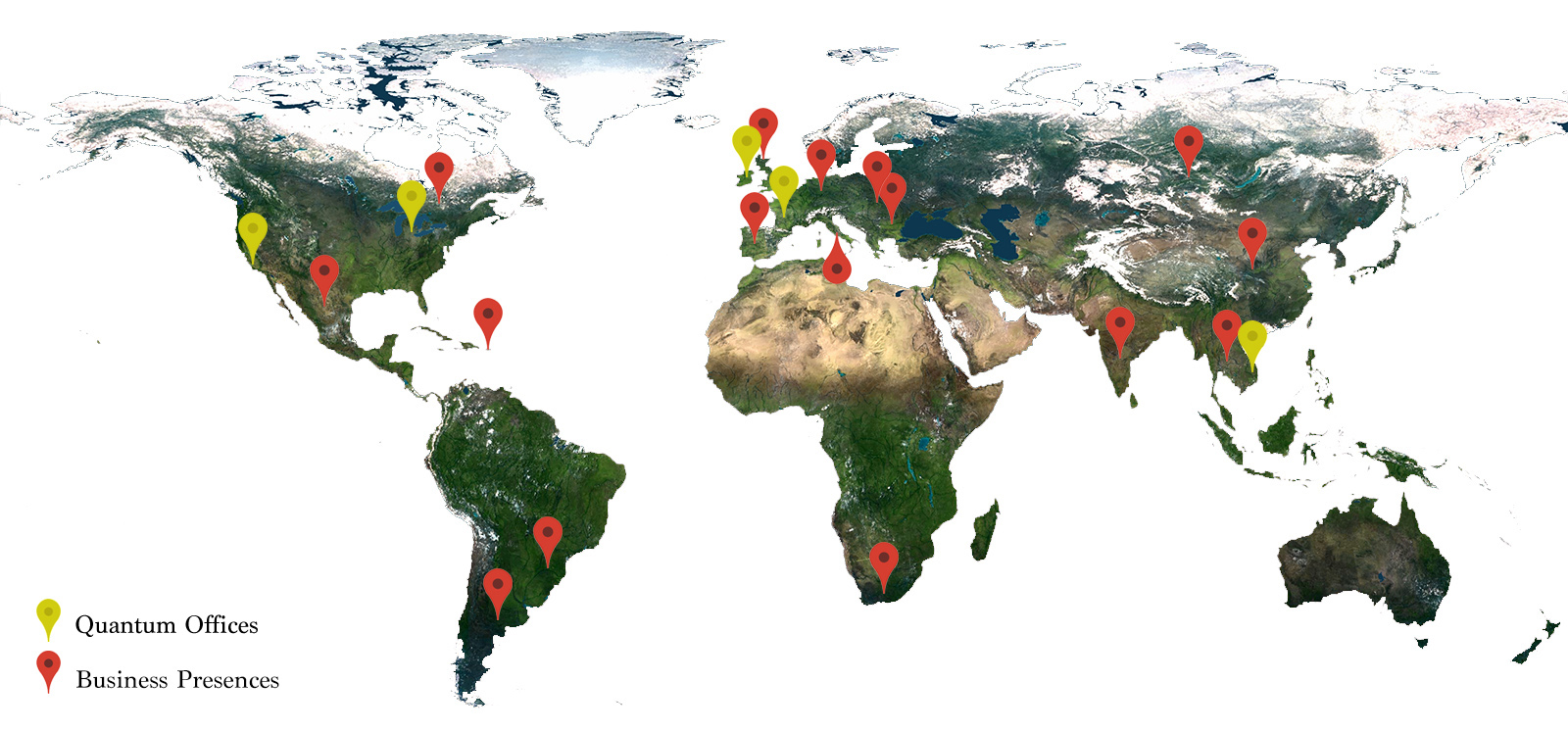 Quantum Offices
Business Presences
USA | HQ-Waterford, Michigan
Argentina
Ireland
Russia
United Kingdom
USA | Inglewood, California
Brazil
Italy
Slovakia
India
Europe | Bordeaux, France
Canada
Mexico
South Africa
Europe | Dublin, Ireland
China
Puerto Rico
Spain
Asia | DaNang, Vietnam
Germany
Romania
Thailand